► Chapter One: Origin and Characteristics
► Chapter Two: Treating the African Bullfrog as Family
► Chapter Three: Housing Needs for Your African Bullfrog
► Chapter Four: Feeding Your African Bullfrog
► Chapter Five: Breeding Your African Bullfrog
► Chapter Six: Setting Up Your Frog's Terrarium
► Chapter Seven: Health Considerations
Chapter Two: Treating the African Bullfrog as Family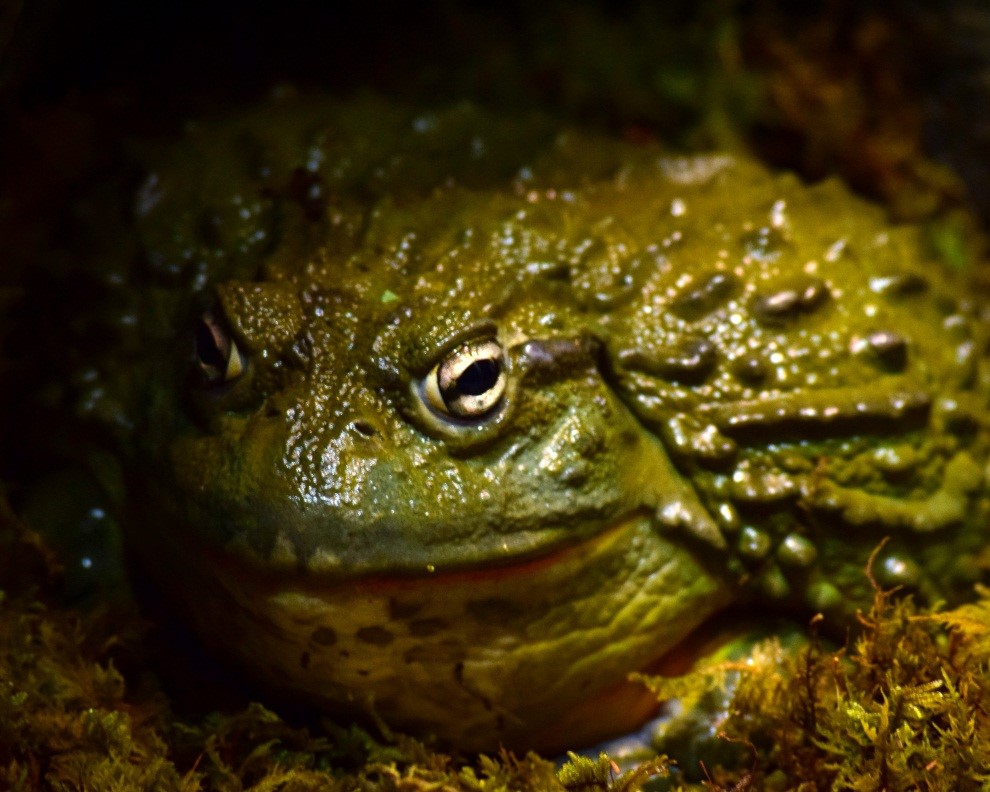 We have now discussed the basic characteristics and background information about the African Bullfrog. We also have given you a 'cheat' sheet of the important information about this frog. You now need to know if getting a frog is truly right for you. In this section, we will be dwelling more about this frog; its behavioral traits, estimated budget, and permits and licenses that you will need to have. There are things that you need to buy before welcoming the first African Bullfrog at home. You might think that they are easy to take care of, but buying an African Bullfrog is a holistic commitment.  Let us start this chapter and further know our beloved pet, African Bullfrog.
Buying a pet is a great idea, whether you live alone or with your family. However, you need to think through and through before you purchase your first pet because it is a big and difficult decision.
When you have chosen your pet, you need to put all of your heart and soul to take care of this creature as if your own child. If you want to try something new, buying an African Bullfrog is great choice for you.
You might be scared of buying amphibians because they require different things as your typical mammal pets. African Bullfrog are easily available almost everywhere. They are dormant creatures that won't need too much food because they rarely move. However, they have aggressive tendencies. You need to be very careful about taking care of this pet.
Temperament and Behavioral Characteristics
They have sensitive skin.
They can live up to 40 years if you meet all of its needs.
Male African Bullfrogs will guard their tadpoles, but sometimes may eat them if they are stressed out or in the wild.
You can't cuddle these little creatures.
They have sharp teeth and could bite humans when handled or provoked.
They have low exercise routines.
They like to stay in a pond with only is head floating.
They hate to have other frogs interfere in their territory.
We have just rounded up the behavioral characteristics as well as its temperament of the African Bullfrog. You could also know new traits and characteristics as you raise this frog on your own.
In this portion, we will be giving you pros and cons on why you should purchase your very first African Bullfrog as your next household pet. You need to go through each bullet because this will help you in making your decision.
Pros
African bullfrog can make great display pets.
Relatively low maintenance.
After all the initial costs, caring for frogs is very inexpensive.
Cons
You should only purchase your pet African Bullfrog from legitimate pet traders.
The habitat can be difficult to keep healthy and clean.
Some frogs are sensitive to waste and other contaminants.
They are not really great for kids.
It can be difficult to find someone to take care of your frog when you are away.
You need to handle insects if you want to feed your African Bullfrog.
If you still plan to own an African Bullfrog after going through its pros and cons, you need to continue to know more about the breed. You need to know the costs and licenses that you need to acquire before you purchase it.
Licenses for Your African Bullfrog
If you have decided to legally purchase your African Bullfrog, you need to have the frog licensed so you and your frog can be protected, and you will follow the rules and regulation of the state you are currently living.
Here are some guidelines that you need to know to license your African Bullfrog:
Some states will require you to obtain a license before you own your frog.
You need to check the laws, as well as the rules and regulation before you decide that you want to legally own your frog in your area.
If you want to move to a different state, you need to know the specific license requirements of the state that you want to move in.
You should only purchase your frog from a registered and reputable frog breeder.
If you want to own an African Bullfrog, you need to prepare many things. You need to find the best breeder and best place to buy the African bullfrog; you also need to purchase an enclosure or aquarium or tank, food bowls and water dishes, and different supplies such as different bulbs for heat sources, food supplies and supplements, and other essentials.
If you know you have a budget for this task, let us go out and buy our African Bullfrog!
Costs of Keeping an African Bullfrog
Having a new companion in your life is never easy at first. You need to plan and prepare everything before this companion comes into your life. Getting a new pet in your life is like having a child; you need to provide the pet with food, shelter, water, and other basic necessities. In this case, you need to allot money for this task.
Keeping a great budget might be difficult, but you will soon get a hang of it if you start to early and plan it well. The total budget for your African Bullfrog will heavily depend on the type and kind of sources that you will purchase. Some items might be more expensive because of limited stocks. Aside from this, you need to keep in mind the quality of the product and how long it will last for your frog. Sometimes, cheaper does not really mean 'cheap' – because it will not last a long time. In this portion, we will give you a breakdown of the budget needed for your pet, African Bullfrog
African Bullfrog's Price
Prices for the African Bullfrog's vary greatly in price. You need to remember that you need to buy the bullfrog from reputable frog breeder. The price of the African Bullfrog varies from $40 to $400, depending on the age and gender.
Want to read the entire thing?