► Chapter One: Tracing the Boston Terrier's History
► Chapter Two: A Lifetime with the Boston Terrier
► Chapter Three: The Battle of the Sexes
► Chapter Four: Caring for Your Boston Terriers
► Chapter Five: Welcoming Your New Dog Home
► Chapter Six: Eating Tips for Your Boston Terrier
► Chapter Seven: Grooming Your Pet
► Chapter Eight: Visiting Your Veterinarian
► Chapter Nine: Boston Terrier as Show Dogs
Chapter One: Tracing the Boston Terrier's History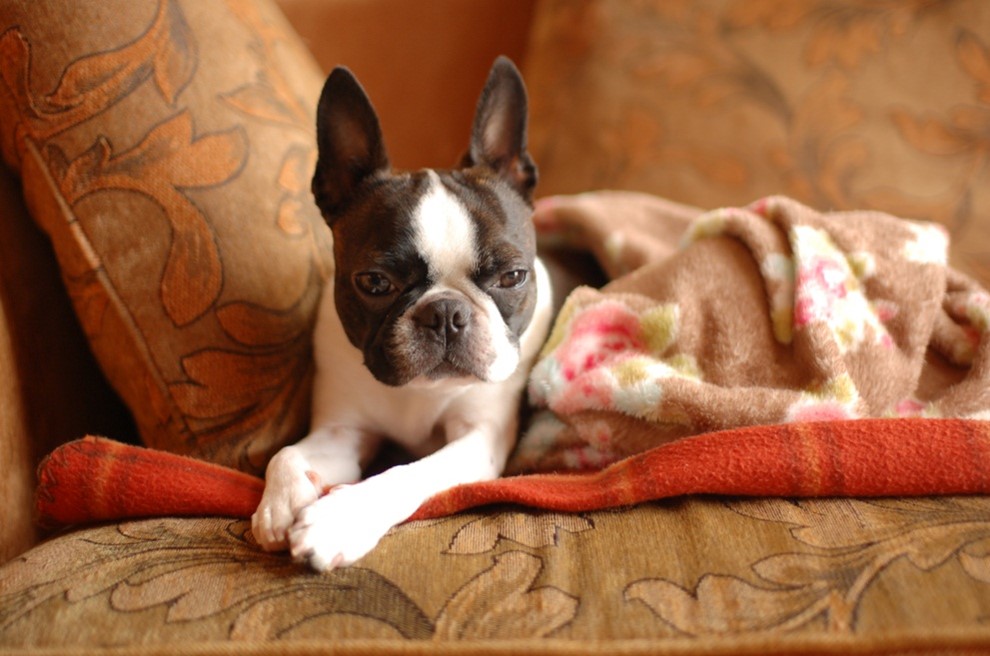 What picture pops into your mind when you think of a Boston Terrier? You would probably think a dog with an unmistakable pug nose with cute and pointy ears. It also has a unique tuxedo as a coat, or listening to its lovely wheezing and snorting that you will surely hear as it approaches you. Before you go out and get yourself your own Boston Terrier in your own home, you need to know the things that will make this dog tick. In this chapter, we will be discussing to you the wonderful history of the Boston Terrier. Aside from this, we will also give you quick facts about the breed, as well as personality pluses that make this breed truly stand out.
Boston Terriers are popularly known as the American Gentleman, and it is for a good reason. This breed is affectionate, intelligent and classy dog that loves company and would do great as house companions.
With its loving and caring personality, you would not believe that the ancestors of this breed were originally bred to fight other dogs!
The Boston Terrier is the mix of the white English Terrier, who is now extinct, and the English Bulldog. One of the first dogs belonging to this breed was named Hooper's Judge, who was owned by Robert C. Hooper from Boston, Massachusetts.  The bulldog-terrier blend was imported from Native England around 1870. Hooper's Judge was described to be a high-stationed, dark brindle dog with a lot of white markings. This dog looked more a Bulldog rather than its other mix.
In this time, the cross between the terriers and bulldogs that were used in Britain and the United States were used for blood sports such as pit dog-fighting and bull-baiting, however, this sports was later outlawed.
Many early breeders from the United States admired the dog's look, so they further refined and stabilized the look of this breed, further selecting smaller sizes, with large expressive eyes and has a likable personality. This mix is what we know the current Boston Terrier today.
A number of Boston Terrier's fanciers around the Boston Area formed the American Bull Terrier Club in 1889. This club exhibited dogs as Bull Terriers or Round Heads.
In 1891, another group of Boston Terrier breeders and fanciers formed the Boston Terrier Club of American, they renamed the breed to Boston Terrier. The group followed the origin of the breed. It took a number of years before the AKC was persuaded that Boston was a purebred that would produce great breed.
They were extremely popular in the early 1900s. It placed either the first or second on the list of registered breeds from the years 1905 to 1934 in the American Kennel Club.
By the 1920s, the breed has reached Europe while the 1950, it became one of the most popular breed in North America.
Boston Terriers were welcomed among socialites and fanciers alike. Every family wants to own a Terrier! Over the course of the century, they have gained a great position in the AKC's most popular dog; they consistently sit on among the top 20 popular dogs!
Right now, these dogs have made their way into different households, varying from small apartments to large farms and wherever possible! They have truly captured the hearts of a lot people around the world!
If you ever come across Boston Terrier owners, you would surely hear nothing but praises for this breed, which is probably true because they are intelligent, loving, and ready for any activity that you would want to do!
Here are the other reasons why you should love and have a Boston Terrier:
They love kids
Most Boston Terrier loves to bond with kids. When kids are taught how to behave and love dogs, the dog and kids would become best friends so face! The dog would enjoy wrestling matches, playing dress up or even going out for a quick run! These little mutters would love to do anything with their children.
They adore adults  
Boston Terriers get along with seniors, adults, and children alike. They can integrate well into any households. Some Boston Terrier are even bred to become therapy dogs, some travel to nursing home to bring joy to old and aging patients.
They are low maintenance
Boston Terriers are easy to take care of. They have short coats that can be easily brushed and washed. They don't require a lot of exercise because they have low energy. Aside from this, they are very intelligent, great with house training, and even obedience training.
They are a healthy breed
Although they may have problems due to their short snout, Boston Terriers are healthy dog.
They can fit anywhere!
Boston Terrier is the perfect size for any type of houses, such as, town house, apartment, or even single-family home. They do not really require a large yard which makes them wonderful house pets.
They like other pets too.
Boston Terriers are an easy going breed. They love to share their homes and space with other cats, dogs, and even a caged hamster! Just make sure you introduce the other pets slowly, and they will get along easily.
In this part, we will give you a quick rundown on the essential information about your pet the Great Dane. These information can serve as your 'cheat' sheet in the future.
Want to read the entire thing?